포트폴리오
하이컴프아이엔티의 최근 포트폴리오를 한눈에 보실 수 있습니다.

고려대학교 국제기후해양 거버넌스센터


2019-01-05

|

17340

고려대학교 국제기후해양 거버넌스센터 홈페이지가 오픈되었습니다.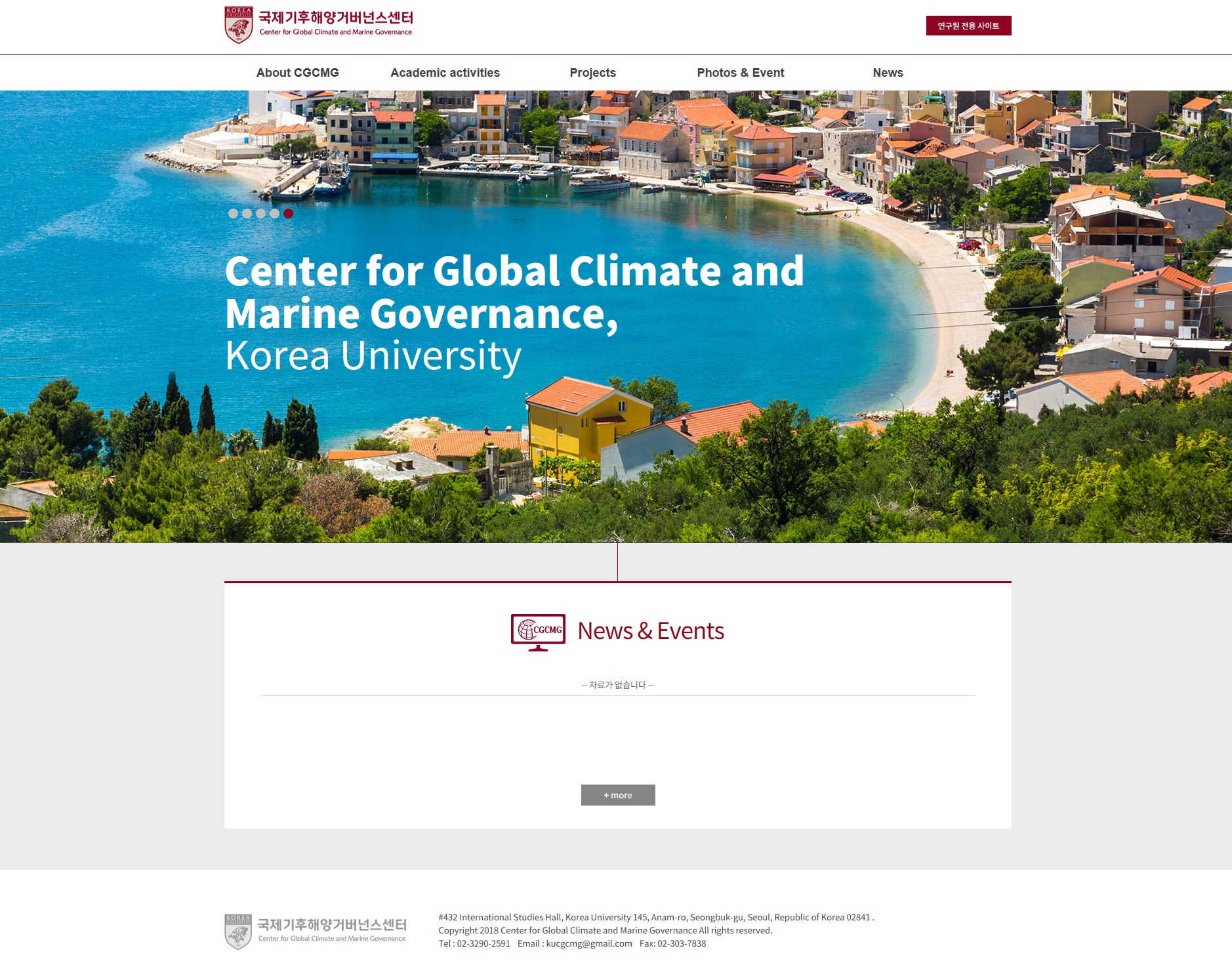 The Center for Global Climate and Marine Governance
Founded in July 2016 by Professor Chung Suh-Yong, the Center for Global Climate and Marine Governance (CGCMG) is a research organization with its headquarters based in KU-GSIS concentrating on the issues of climate, marine, environment, sustainable development, arctic and antarctic governance and soft security. CGCMG aims to contribute to the discourse and promote co-operation amongst various key players including governments, private firms and academics thereby functioning as a hub for research with the vision of building the foundation for peace and co-prosperity both at the global and regional levels.Since its foundation, CGCMG has been prolific in its activities and has conducted several conferences and expert panel meetings. Among the participants were high-level government officials such as the former Speaker of National Assembly, the former Prime Minister, former minister of the Ministry of Environment, heads of the Global Green Growth Institute, UNDP/GEF YSLME Project, UNDP Seoul Policy Center, Ambassadors as well as experts from various fields from both Korea and abroad. In early 2017, an international seminar on "Building Capacity of Developing Countries on Sustainable Development" co-organized with the UNDP Seoul Policy Center, and the Climate Change Center, was held in the International Studies Hall with the purpose of seeking an interdisciplinary approach by experts from diverse fields including ecosystem ecology, foreign affairs, green growth, climate change and energy. In December 2017, nearly 20 different institutions participated in the conference on the "Paris Agreement Article 6 and the Northeast Asian Carbon Market" including individuals from universities, the European Commission and the government. As of 2018, CGCMG has embarked on a project sponsored by KOICA with various partner organizations such as UNDP Seoul Policy Center, Global Green Growth Institute to strengthen Ethiopia's capacity to address climate change.For education, CGCMG supports various student-led activities such as Model UNFCCC. CGCMG also has plans on developing various opportunities for both undergraduate and graduate students by introducing climate change and environment focused programs of GSIS, providing internship opportunities in the Korean government think-tanks, international organizations and partner organizations abroad, and supporting field works overseas.